Pin It Now!
So you know when you have those to-do lists, and they have lots of important things like "Feed Cat!" and "Wash Dishes!" and then down past "Go to Work So You Can Have Money to Feed Cat and Have Food to Put on Dishes!" you have things like "Finally write the SOS Bake Sale Blog Post"? It turns out those tasks down at the bottom really don't get done.
In other words, belated post is highly belated. In fact, I STARTED writing this post on Memorial Day and… only finished it now. I'll give you a moment to check the date stamp, and be impressed at my procrastinatory skills. ANYWAY. Here is the picture/recipe/write-up post you've all been waiting for! An edge of your seat thriller! Either way, read on after the jump about the awesome day, filled with food, fun, and fundraising.
Take yourself back to May, 2012, to talk about an event in April. Wiggly time warp finger movements here.
Taking advantage of the extra day in the weekend (soapbox-ish note: I am grateful even more than I'm sure I know for all those who risk their lives, sanity, and livelihood to protect our country and while I am grateful today, I am grateful all days regardless of the day off from work) to finally sit down and write about this year's Food Blogger's Bake Sale to support Share Our Strength.
(I am also reminded because I was just discussing the awesomeness that is SOS with a friend of mine.)
This is the third year that I've participated (see the post about year 1 here, while I was so organized (read: opposite of organized) during the second year that I only posted a teaser here) and I made Banana Bread, recipe courtesey of awesome geek-chef Alton Brown. If you want to skip to the recipe below, keep scrolling. Otherwise sit back for some awesome pictures and comments about the day.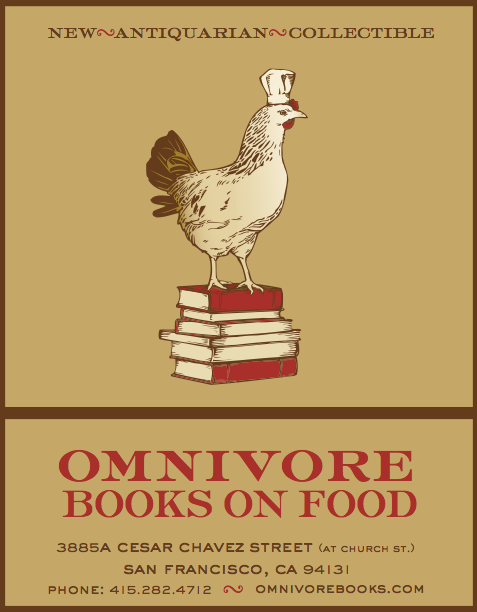 Once again we were at the corner of Church and Sanchez in front of Omnivore Books, which is an awesome place if you're looking for the newest book about marshmallows (
written
by the amazing Shauna Sever Webb, just sayin') or a text from 1915 about raising bees (Bees and Honey: Management of an Apiary for Pleasure and Profit,
here
about a fourth of the way down the page).
The sale was organized and run and looked over by the exceedingly awesome powerhouse team of Anita, Irvin, Annelies and Shauna (bloggers of Dessert First, Eat the Love, La Vi En Road and Next Door Baker). Look at them, being all in charge and photogenic:
There were lots of amazing offerings at the sale. From made that morning croissants (that the bloggers definitely "sampled" in the slow time)...
...to gorgeous chocolate dipped cookies and truffles by Ariel...
...to Annelies's green tea granola, which sold in a flash, and had the most adorable patterned cloth on top of the lids.
...and many more awesome cakes, cupcakes, pies, cookies, and other deliciousness!
There were oodles of treats beyond those pictured: strawberry pies, cookies, macarons, brownies, bars, and other delights! I wish I'd taken pictures of all them! It was lovely to see old faces and make some new food blog friends! While last year it was really cloudy, this year it was warm (we had to keep rotating all the cookies to make sure nothing melted!) and sunny, with not too much wind. A great change to get out in the sun and raise money to end child hunger!
I made Banana Bread, both chocolate chipped and otherwise. Amazingly, most of it sold. Not so amazingly, the chocolate chip bread sold better. Chocolate = money.
Overall, we raised 1140 dollars for the Great American Bake Sale to fundraise for Share Our Strength. As a teacher, I can see first hand what happens when students are even a little bit hungry. Even those five minutes before snack and/or lunchtime are special in a classroom, let me tell you; kids shouldn't have to have anxiety about eating enough or not knowing where/when their next meal is.
Now, on to the recipe! Alton Brown, you are my hero.
BANANA BREAD - ALTON BROWN STYLE:
Hardware: 1 bread loaf pan (9x3 or 8x4, whatever floats your boat), or muffin tins if that's your speed.
Mis en Place (lengthy!):
DRY GOODS
WET WORKS 2
| | | | | |
| --- | --- | --- | --- | --- |
| | | | | |
| Nuts (walnuts,pecans, or almonds) | | | | |

Method:
•
Grease a loaf pan and line with wax paper
•
Combine the bananas and sugar and mix with a potato masher until smooth (Note: I usually have the bananas in a highly scientific plastic bag, then add the sugar and mush with my hands. Way more fun!)
•
Combine the WET WORKS 1 and the WET WORKS 2 in separate bowls, then combine them together. (So, if you use the bag method, you only use one bowl! Score!)
•
Combine the DRY GOODS with the WET WORKS. (Don't overmix, it will make the bread really chewy in not an awesome way. You want the flour to just combine. Feel free to walk away for a minute or two when it's almost there and come back, some of it will absorb that way.)
•
If using THE OPTIONS then fold them into the batter now.
•
Pour batter into the pan.
•
Bake for 50 minutes - 1 hour or until center registers 210F and a toothpick stuck in the center comes out clean.
•
Allow to cool on stove top for 15 minutes then remove from pan and transfer to a cooling rack and allow to cool completely before slicing.
•
Tightly wrapped the bread will keep at room temp for about 5 days.
Verdict:
If your bananas are large (no pun or innuendo intended… mostly) your batter can overfill the pan, lengthening the time it will take to bake (duh).
I love this recipe because it's so easy to make additions and tweak it a little, and also it comes out highly banana flavored as well as moist. YUM.